SPECIAL AUTUMN COURSE (2019)
Experience the Autumnal Nature together with our special guests joining, and learn Japanese!
Dates:
October 21st - November 1st, 2019
(2 weeks)
COURSE DETAILS:
Japanese lessons Monday to Friday, 9AM - 12:30PM

Learn Japanese in an authentic Japanese classroom

The course is focused on learning practical conversational Japanese to help prepare you for real life situations

Organised activities/events after classes and on some weekends for students to practice what they have learned in class in real life

Many opportunities to immerse in the culture and
to interact with the locals


ACTIVITIES:
Mount Moriyoshi
Take in the amazing views and ride a gondola to the top! See the Sea of Japan on the way.
Lake Towada
Farm Stay
Meet the locals, experience and learn about their way of life
Learn about the local culture & cuisine
Cook meals together with the locals and laugh all night long!
Meet the Akita dogs
Meet and play with the adorable Akita dogs as you learn about the history and legends surrounding the breed.
Visit a Traditional Samurai House
Traditional Tea Ceremony + Yukata
Experience a traditional tea ceremony while wearing beautiful yukata!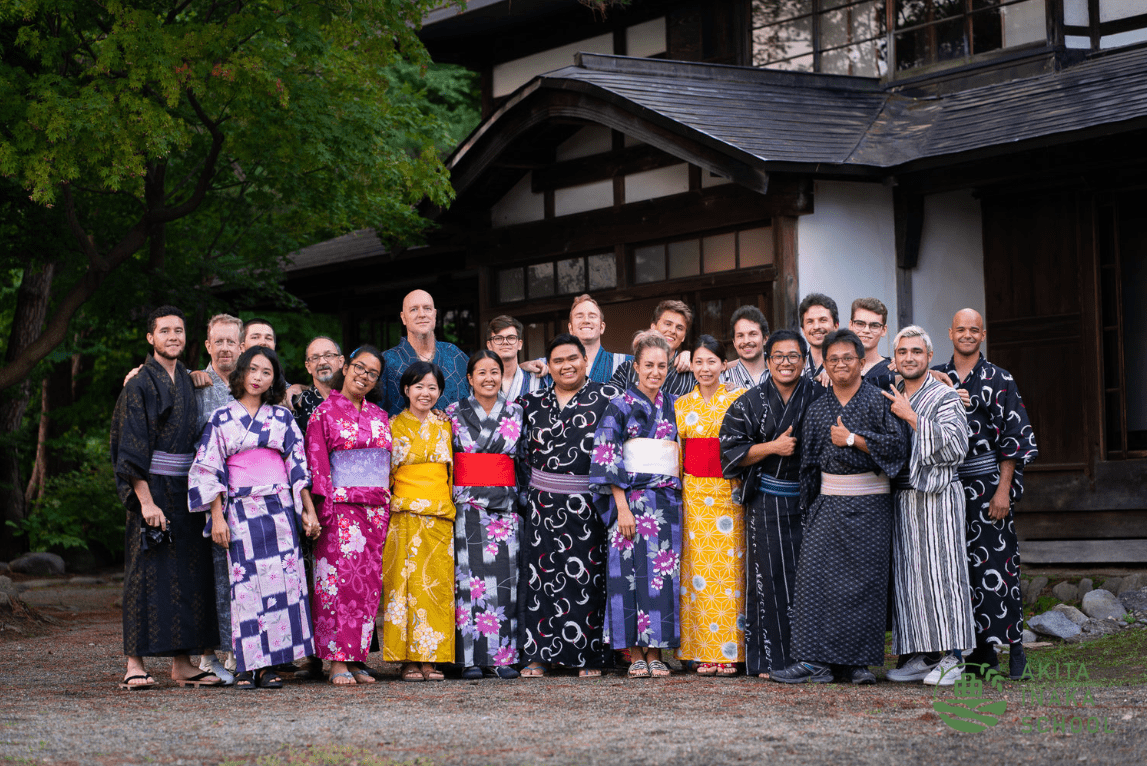 Meet & interact with High School Students
Many community events organised!
Bicycle riding
Cycle through the beautiful mountainous scenery and rice fields!
(Bicycles provided for each student 24/7 free of charge).
Bento box making (Magewappa)
Have a seasoned artisan teach you how to make your very own wooden magewappa bento box or serving tray.
Japanese manners lesson
Learn traditional manners, such as how to hold chopsticks properly, and be deeply rooted in the culture.
Pottery Class
Make your own hand-made creation at the local pottery club.
Fruit harvesting
Pick seasonal fruit

Calligraphy Class

Learn to write beautiful kanji

Onsen trip

Visit hidden onsens where the locals go.
PRICE:

Total for the 2 week course: 160,000 JPY (1480 USD)
All activities are included.

(Not including flights and accommodation)
Japanese sharehouse (limited availability)
20,000 JPY (189 USD)/per week single room
13,000 JPY (123 USD)/per week for shared rooms
Hotels may also be arranged (depending on availability).
Hotel price starts from 40,000 JPY+ per week.